Triton 2

User Manual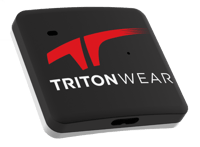 All rights reserved. No part of this publication may be reproduced, distributed, or transmitted in any form or by any means, including photocopying, recording, or other electronic or mechanical methods, without the prior written permission of the publisher. For permission requests, write to the publisher, addressed "Attention: Permissions Coordinator," at the address below.
TritonWear
130 Queens Quay East Unit 1022 Toronto, ON M5A3Y5
www.tritonwear.com info@tritonwear.com
Document Revisions
| | | |
| --- | --- | --- |
| Date | Version Number | Document Changes |
| 20-11-2019 | 1.0 | First Version |
| 23-01-2020 | 1.1 | Update IC documentation |
| 17-06-2021 | 1.2 | Update address and approvals contacts, minor copy edits in How to Use the System, and Firmware Updates sections |
| 28-05-2023 | 1.3 | Copy and font colour updates to Regulatory compliance section, Battery, Charging and Charging cable and connector. |
Approvals
This document requires the following approvals:
| | |
| --- | --- |
| Name | Title |
| Tristan Lehari | Founder & CEO |
| Katie Marr | Head of Growth |
User Description
The Triton 2 platform is intended for both on deck and in water users utilizing it to improve swimming performance. No specialized skills are required.
On deck uses will begin and end each tracked session, and evaluate performance both during and after training sessions, to make informed training decisions on behalf of the in-water users they work with, be it themselves or person(s) they coach.
In-water users will wear the Triton 2 unit while swimming, and access their profile post-practice to review performance. If this user swims without anyone monitoring training sessions, they will also be responsible for beginning and ending each tracked session.
Warnings Explanation
DANGER!
Danger indicates a hazard with a high level of risk which, if not avoided, will result in death or serious injury
WARNING!
Warning indicates a hazard with a medium level of risk which, if not avoided, could result in death or serious injury.
CAUTION!
Caution indicates a hazard with a low level of risk which, if not avoided, will not result in injury but could impact performance of the hardware.
Packaging Information
Packaging contents
Each TritonWear shipment contains
One (1) Triton 2 device
One (1) charging cable
One (1) user manual
Obtaining Information
Internet
The latest version of all documentation is available at the following address: https://www.support.tritonwear.com
https://www.tritonwear.com/userguide
Documentation Feedback
If you are reading TritonWear product documentation on the internet, any comments can be submitted on the help center website. Comments can also be sent to info@tritonwear.com.
We appreciate your comments.
Purpose of the Triton 2
There are 3 components:
The Triton 2 unit: The wearable device used to collect swimming data
TritonWear app: Software used to track training live in practice, review datasets post-workout, and manage the profile and organization for each user.
TritonWear Headbands: Fabric band to secure the Triton 2 unit in place if a user prefers not to wear a swim cap. These are available for purchase separately.
Product elements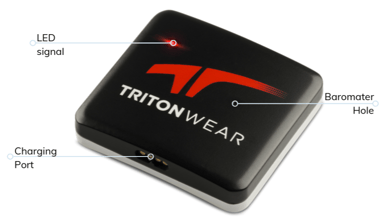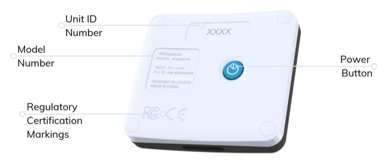 Understanding the UI
Firmware - The code installed directly on the Triton 2 which enables it to collect and calculate metrics during live training.
Software - The TritonWear application, available on all android and iOS mobile and tablet devices, as well as limited functionality in a browser version.
Intellectual Property - All algorithms, designs, calculations, and visualizations of user data within our software, as well as the designs and procedures that go into the manufacturing of our Triton 2 devices.
LED Lights
Interpreting the light colours
| | | |
| --- | --- | --- |
| Colour | Meaning | User Action |
| No Colour | Unit off in a sleep state. | Press the power button to turn it on if desired. If the device detects no usage for 30 minutes, it will automatically power itself off to preserve the battery. |
| Blue | The Unit is on but hasn't received a command to start a workout. | Open the TritonWear app and begin a workout if desired, otherwise press the power button to turn the unit off. |
| Green | The unit is on and connected to a Workout. | Continue training! If the unit should not be connected to a workout, power it off and back on to remove from the workout session. |
| Yellow | Device On, In Workout, Metric has been generated but not yet sent out via BT. | Wait for sync or move closer to a mobile device, turn it on and open the app. The device should send data automatically. |
| Red (blinking) | Device On, however, the unit failed to initialize one of the sensors. | Turn the unit off and back on, the light should come back on blue. If it does not, repeat the power cycle process until it resets and powers on with a blue light. |
| Red (solid) | Device On, however, it has not booted up properly and requires intervention to reboot. | Plug the unit in and unplug the unit a few times until the light switches to blue. If not responding, plug it in and jiggle the charging cable connected to the unit until the light switches to blue blinking. |
| Purple (Solid) | Firmware upgrade mode, the device awaiting a signal to upgrade. | If not attempting to upgrade, power the unit off and back on to reset. The unit should return on with a blue light. |
| Purple (Blinking) | The unit is in the process of upgrading. | Leave the unit until the upgrade is complete. If the unit ceases to blink, turn it off and back on and restart the upgrade using the app. |
| Base color / Red interchange | The device is on but has a low battery. | Charge unit immediately. |
How to Use the System
Starting a Workout
Starting a workout requires an android or iOS powered mobile device or tablet, with the TritonWear application installed, as well as a Triton 2 unit. To start the workout, simply power on the Triton 2 unit, and follow the in-app instructions to start a workout. For more on this visit support.tritonwear.com/en/starting-a-workout.
Triton 2 Button Functions
The button, located on the back of the unit, serves 3 distinct functions:
Power on - press and hold the button for 2 seconds then release. The LED on the front of the unit will turn on when the unit has been successfully powered on
Power down - press and hold the button for 2 seconds then release, the LED will turn off when the unit has been successfully powered down
Hard reset - if for some reason the unit requires a communication reset with the app, pressing and holding the power button for 12 seconds will reset the unit, enabling it to reconnect to the app.
Reset during Upgrade - if the unit gets stuck during an upgrade, you and press and hold the button for 2 seconds to reset it, the unit will return to blinking purple lights when it is ready to restart the upgrade process.
Capturing Rate of Perceived Exertion (RPE)
Each athlete will be asked to input a value between 0-10 after each practice indicating how taxing the session felt on that day. This is ideally completed within 30 minutes of practice. For more on this please see support.tritonwear.com/en/how-to-enter-rpe-1
Usage Checks
Positioning The Unit
The location of the Triton unit affects the metrics that are generated. To ensure you get the most accurate metrics, the Triton units should be:
Pitched back slightly, just below the curve of the head
Facing straight up (LED lights at the bottom and aligned vertically)
At the centre back of the head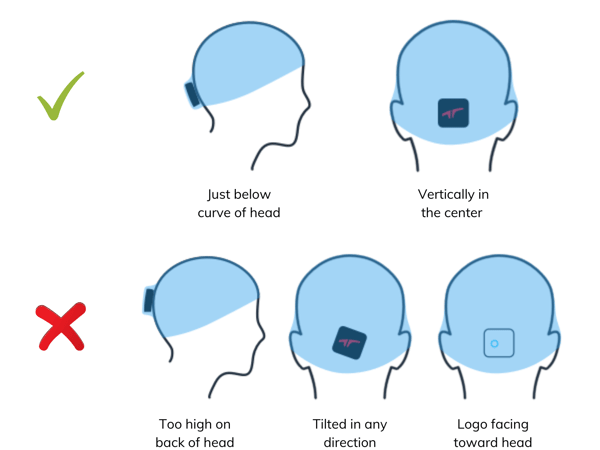 Supported and Unsupported Activities
Major Stroke Types:
Butterfly
Backstroke
Breaststroke
Freestyle
Individual Medley (IM)* - only on a rep level, cannot be recognized per length
Mixed - only on a rep level, cannot be recognized per length
Kick Sets - only after the first length of swimmer is recorded
Start Conditions:
The following unsupported activities will still record data, however, it may not be as accurate due to the nature of the movements involved.
Unsupported Activities
Switching strokes mid-length
One-arm butterfly
Drills
Swimming partial lengths
Equipment
Ending on a turn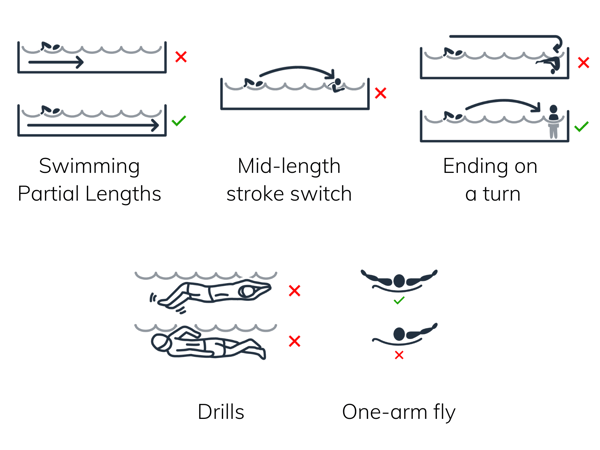 Maintenance
NOTICE: It is important to ensure the charging area is clean and dry prior to connecting the charging cable
Triton 2 Maintenance
Storing the device
Because the Triton 2 is used in either chlorinated or salt water pools, please be sure to wipe them dry before storing to prevent any buildup occurring on or around the charging port. For long term storage ensure they are completely dry but do not store the in moisture reducing materials like rice, as this will dry out the plastics and may cause the device to experience a shorter life.
Charging the battery
To charge the battery:
Dry off the area to be charged
Connect the Triton 2 unit to the supplied charging cable
Plug the charging cable into a charging brick or computer to provide power
It should take approximately 1 hour from full drain to full charge (this will vary based on electrical current available for charging)
Planned physical device maintenance
Maintenance tasks shall be done according to the following plan:
| | |
| --- | --- |
| Task | Frequency |
| Dry charging port | Prior to charging every time |
| Cleaning charging port | Every 3 months |
Firmware Maintenance
Identifying if an update is required
The TritonWear app will notify you when a firmware update is available.
This firmware update will be downloaded to the TritonWear app when internet is available.
From there, any Triton 2 units connected with the account can be upgraded with or without an internet connection
Updating firmware
When a firmware update is available, a notification will be presented to the user asking them if they would like to update their Triton 2 device.
If the user chooses to update their Triton 2 device, it will enter the firmware update state with the LED turning purple. While the firmware update is in process, do not move or turn off the Triton 2 device, or allow the screen to turn off.
When the update is complete, the LED on the Triton 2 will return back to the previous state and the user is free to continue using the device as normal.
If the user chooses not to update at that time, they can return to update at any time from the update unit button on the menu. This will initiate the process outlined in steps 2-4 above.
Any user can update a unit at any time, however, no unit can be added to a live workout session until its firmware version is up to date.
Regulatory and Safety Info
Product Safety
Safety information related to the intended use and reasonably foreseeable misuse;
There is no threat of electrocution with the Triton 2 unit.
There are no physical implications to wearing the device on the swimmers head
There is no continuous frequency associated with capturing and relaying information to the tablet - Bluetooth transmission is infrequent and short-term with each transfer
Product limitations and restrictions
The analytics within the TritonWear application is intended to be a relative direction for training, it is not meant to be used as a strict substitution for coaching
The Load monitoring tool can help reduce injury risk, but does not represent any commitment by TritonWear to be liable for any injury incurred while using TritonWear and it's training tools.
Safe Disposal
There is a lithium ion battery within the unit, please follow local regulations for disposal of this type of battery
There is an electronics board within the unit, please follow your local electronics recycling guidelines for disposal of this type of equipment
Regulatory Symbols
Explanation of Regulatory symbols on the packaging and product
| | |
| --- | --- |
| Symbol | Meaning |
| | The FCC label or the FCC mark is a certification mark employed on electronic products manufactured or sold in the United States which certifies that the electromagnetic interference from the device is under limits approved by the Federal Communications Commission. |
| | CE marking is a certification mark that indicates conformity with health, safety, and environmental protection standards for products sold within the European Economic Area (EEA). The CE marking is the manufacturer's declaration that the product meets the requirements of the applicable EC directives. |
Potential Health Consequences
There are no potential health consequences to the use of this product
Regulatory Compliance
FCC regulatory compliance
This device complies with part 15 of the FCC rules. Operation is subject to the following two conditions: (1) This device may not cause harmful interference, and (2) this device must accept any interference received, including interference that may cause undesired operation. (NOTE: this two-part statement is required for the FCC label)
Note: This equipment has been tested and found to comply with the limits for a Class B digital device, pursuant to part 15 of the FCC Rules. These limits are designed to provide reasonable protection against harmful interference in a residential installation. This equipment generates, uses, and can radiate radio frequency energy and, if not installed and used in accordance with the instructions, may cause harmful interference to radio communications. However, there is no guarantee that interference will not occur in a particular installation. If this equipment does cause harmful interference to radio or television reception, which can be determined by turning the equipment off and on, the user is encouraged to try to correct the interference by one or more of the following measures:
Reorient or relocate the receiving antenna.
Increase the separation between the equipment and receiver.
Connect the equipment to an outlet on a circuit different from that to which the receiver is connected.
Consult the dealer or an experienced radio/TV technician for help.
Important: Changes or modifications to this product not authorized by TritonWear could void the electromagnetic compatibility (EMC) and wireless compliance and negate your authority to operate the product. This product has demonstrated EMC compliance under conditions that included the use of compliant peripheral devices and shielded cables between system components. It is important that you use compliant peripheral devices and shielded cables between system components to reduce the possibility of causing interference to radios, television sets, and other electronic devices.
If necessary, contact TritonWear or take your monitor to an authorized repair center. Or consult an experienced radio/television technician for additional suggestions.
Canadian regulatory compliance
Complies with CAN ICES-3 (B)/NMB-3(B)
Safety Compliance
WARNING: Failure to follow these safety instructions could result in fire, electric shock, injury, or damage to Triton 2 or other property. Read all the safety information below before using Triton 2.
Handling Handle Triton 2 with care. It is made of metal, glass, and plastic and has sensitive electronic components inside. Triton 2 or its battery can be damaged if dropped, burned, punctured, or crushed. If you suspect damage to Triton 2 or the battery, discontinue use of Triton 2, as it may cause overheating or injury.
Repairing Don't open Triton 2 and don't attempt to repair Triton 2 yourself. Disassembling Triton 2 may damage it, result in loss of splash and water resistance, or cause injury to you. If Triton 2 is damaged or malfunctions, contact TritonWear or a TritonWear Authorized Service Provider. Repairs by service providers other than TritonWear or a TritonWear Authorized Service Provider may not involve the use of TritonWear genuine parts and may affect the safety and functionality of the device.
Battery Don't attempt to replace the Triton 2 battery yourself. The lithium-ion battery in Triton 2 should be replaced by TritonWear or an authorized service provider. Improper replacement or repair could damage the battery, cause overheating, or result in injury. The battery must be recycled or disposed of separately from household waste. Don't incinerate the battery.
Charging Charge Triton 2 with the included USB cable and a surge-protected charging hub or brick. Using damaged cables or chargers, or charging when moisture is present, can cause fire, electric shock, injury, or damage to Triton 2 or other property. When not in use, store charging cables unplugged. When plugged in, ensure charging pins are kept away from one another or any metal object like paperclips, coins, keys, nails, screws, or other small metal objects that can close the circuit.
Charging cable and connector Avoid prolonged skin contact with the charging cable and connector when the charging cable is connected to a power source because it may cause discomfort or injury. Sleeping or sitting on the charging cable or connector should be avoided.
Radiofrequency interference Observe signs and notices that prohibit or restrict the use of electronic devices. Although Triton 2 is designed, tested, and manufactured to comply with regulations governing radio frequency emissions, such emissions from Triton 2 can negatively affect the operation of other electronic equipment, causing them to malfunction. When use is prohibited, such as while traveling in aircraft, or when asked to do so by authorities, turn off Triton 2.
Medical device interference Triton 2 contains components and radios that emit electromagnetic fields. Triton 2 contains magnets. These electromagnetic fields and magnets may interfere with medical devices, such as pacemakers and defibrillators. Consult your physician and medical device manufacturer for information specific to your medical device and whether you need to maintain a safe distance of separation between your medical device and Triton 2. If you suspect Triton 2 is interfering with your medical device, stop using Triton 2.
Not a medical device Triton 2 is not a medical device and should not be used as a substitute for professional medical judgment. It is not designed or intended for use in the diagnosis of disease or other conditions, or in the cure, mitigation, treatment, or prevention of any condition or disease. Please consult your healthcare provider prior to making any decisions related to your health.
Medical conditions If you have any medical condition or experience symptoms that you believe could be affected by Triton 2 or flashing lights (for example, seizures, blackouts, eyestrain, or headaches), consult with your physician prior to using Triton 2.
Explosive and other atmospheric conditions Charging or using Triton 2 in any area with a potentially explosive atmosphere, such as areas where the air contains high levels of flammable chemicals, vapors, or particles (such as grain, dust, or metal powders), may be hazardous. Exposing Triton 2 to environments having high concentrations of industrial chemicals, including near evaporating liquified gasses such as helium, may damage or impair Triton 2 functionality. Obey all signs and instructions.
High-consequence activities This device is not intended for use where the failure of the device could lead to death, personal injury, or severe environmental damage.
Choking hazard Some Triton 2 accessories may present a choking hazard to small children. Keep these accessories away from small children.
Industry Canada Compliance:
This device complies with Industry Canada licence-exempt RSS standard(s). Operation is subject to the following two conditions: (1) this device may not cause interference, and (2) this device must accept any interference, including interference that may cause undesired operation of the device."
Cet appareil est conforme avec Industrie Canada exempts de licence standard RSS (s). Son fonctionnement est soumis aux deux conditions suivantes: (1) cet appareil ne doit pas provoquer d'interférences et (2) cet appareil doit accepter toute interférence, y compris celles pouvant causer un mauvais fonctionnement de l'appareil."
Health Canada RF Exposure Warning:
This device complies with Health Canada's Safety Code. The installer of this device should ensure that RF radiation is not emitted in excess of the Health Canada's requirement. Information can be obtained at http://www.hc-sc.gc.ca/ewh-semt/pubs/radiation/radio_guide-lignes_direct/index-eng.php
Cet appareil est conforme avec Santé Canada Code de sécurité 6. Le programme d 'installation de cet appareil doit s' assurer que les rayonnements RF n'est pas émis au-delà de I'exigence de Santé Canada. Les informations peuvent être obtenues:
http://www.hc-sc.gc.ca/ewh-semt/pubs/radiation/radio_guide-lignes_direct/index-fra.php
Physical device original parts warranty
Warranty
Subject to the exceptions listed below, TritonWear warrants each Triton to be free from defects in material and workmanship for a period of one (1) year (the "Warranty Period") covering parts and labour from the commencement of warranty period. The warranty period shall commence on the date of shipment by TritonWear. The Customer acknowledges that EXCEPT AS STATED ABOVE, ALL OTHER WARRANTIES AND CONDITIONS, EITHER EXPRESSED OR IMPLIED, INCLUDING IMPLIED WARRANTIES OF MERCHANTABILITY AND FITNESS FOR A PARTICULAR PURPOSE, ARE EXCLUDED AND THE CUSTOMER ASSUMES ALL RISKS AND LIABILITY RESULTING FROM USE OF THE GOODS. TRITONWEAR NEITHER ASSUMES NOR AUTHORIZES ANY PERSONS TO ASSUME FOR TRITONWEAR ANY OTHER LIABILITY IN CONNECTION WITH THE SALE OR USE OF THE GOODS SOLD, AND THERE ARE NO VERBAL AGREEMENTS OR WARRANTIES COLLATERAL TO OR AFFECTING THIS WRITTEN WARRANTY. THE PARTIES ACKNOWLEDGE THAT THIS EXCLUSION OF WARRANTIES AND THE LIMITATION OF LIABILITIES BELOW ARE REASONABLE AND CONSTITUTE THE BASIS OF THE BARGAIN.
Warranty does not cover
Obvious signs of abuse
Cracked unit casing from obvious abuse
Melted casing or internal electrical components
Extracted/tampered with charging housing