September Swimmer of the Month: Sebastian Jurkiewicz
Who is Sebastian Jurkiewicz?
Sebastian Jurkiewicz is a junior male swimmer with Cobra Swim Club in Ontario, Canada.

Sebastian has seen notable progress over the last 2 years. In addition to training at a much higher level in terms of intensity and technicality, Sebastian's coach credits his improvements to his maturity and increased focus in his swimming.
We figured you would love to see Sebastian's improvement through a data lens. Specifically, we looked at his metrics in the short course 100m freestyle, in which he currently ranks 34th in Ontario and 60th in Canada. We reviewed his progress from January 2017 to February 2019, and how it was reflected in his 100 SCM freestyle races.

Sebastian's Metrics
Stroking Metrics
Speed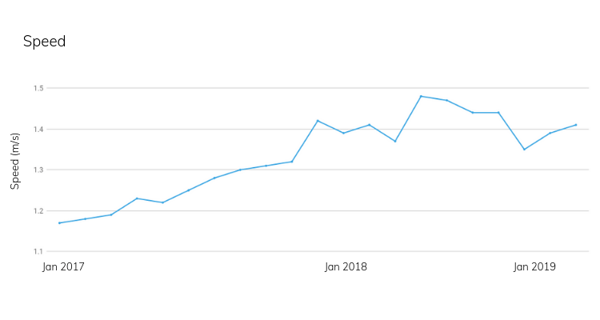 As you can see from the graph, Sebastian constantly improved his speed between January 2017 to February 2019. In this span of 2 years, Sebastian increased his OVERALL speed by 21.6%. If we were to break that down to a monthly average, he improved his speed between 1.16 m/s and 1.41 m/s each month.
Asides from the changes in speed, if we look deeper into his stroke mechanics it is easier to understand how he increases his speed so much over this past two years. Be sure to read on...
DPS and Stroke Rate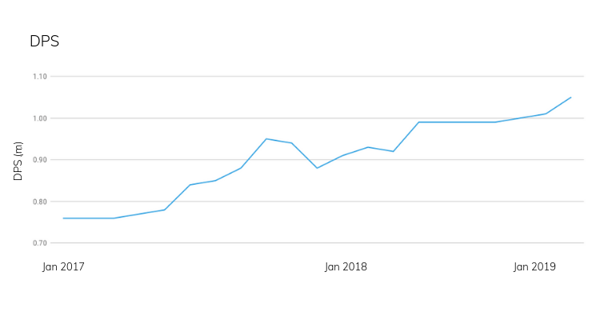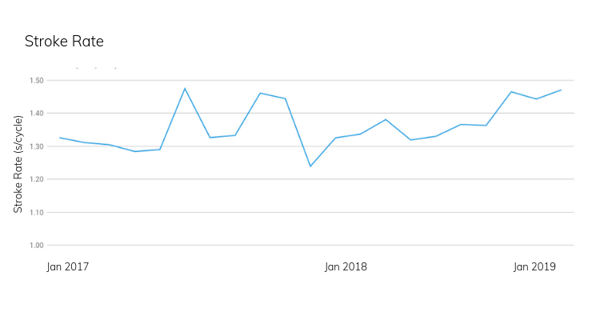 In January 2017, Sebastian's DPS in the 100m freestyle measured at an average of 0.75 meters per stroke. Overall, the next two years he consistently lengthened his strokes, and was producing an average DPS of 1 meter per stroke by February 2019.
At the same time, he was able to minimize the drop in his stroke rate. In January 2017, he was stroking at a rate of 1.33 s/cycle. As his DPS increased over time, his stroke rate slowed slightly to 1.47 s/cycle by February 2019. This is a difference of around 9 strokes per minute.
So not only did Sebastian elongate his stroke over the last two years, he also was able to increase his stroke rate--which would give him a more efficient and faster stroke!
Stroke Index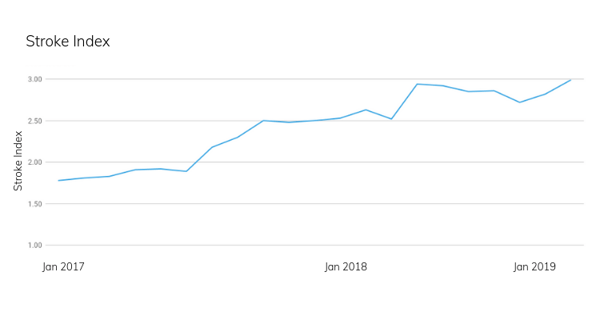 The increase in Sebastian's DPS and speed during this period resulted in increased stroke index. Reminder, that stroke index is our way of measuring a swimmer's "efficiency". His 100 free efficiency steadily improved over the course of 2 years, which was reflected by an 68% increase in his stroke index by February 2019.
Transition Metrics
Turn Time and Time Underwater

There were also fairly significant improvements in Sebastian's turn time and time underwater. His average time underwater increased from 2.1s to 2.6 seconds per lap, and improved his turn time from 1.02s to 0.89s.
We all know that spending more time under the surface of the water allows a swimmer to really carry their high speed off the start/walls for a longer period of time. Couple that with a faster turn, Sebastian really set himself up well for improvements in his 100m Freestyle.
Takeaways
Race results are a clear reflection of training performance.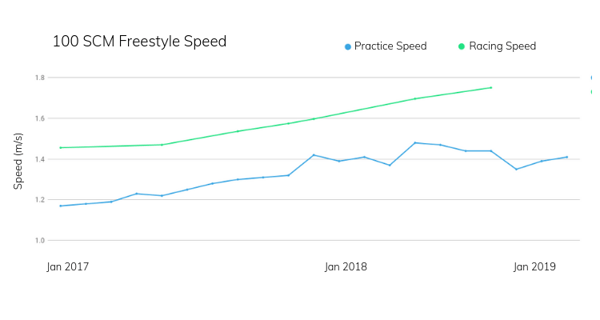 A comparison of Sebastian's training and racing data shows an upward trend in his 100 free speed, both in practice and in competition.
His training progress translated very well to improvements in his 100 free races. As he swam faster in practice, he consistently dropped his times in races. From January 2017 to November 2018, he improved his 100 SCM freestyle time by OVER 11 seconds
😱.
Training progress doesn't always happen in a straight line.
Sebastian's training data show peaks and dips in his training speed between 2017 to 2019 and this is completely normal. As the saying goes, "Success is never a straight line." is 100% true and Sebastian did NOT swim faster at every single practice or meet.
However, the general trend of his speed was upwards, showing long-term gains and improvements, which translated to consistently faster race times in the 100 free.